Three Epiphanies I Finally Noticed
Friends! How lovely to see you again! It's been a while, and much has happened.
First--I'm defending my thesis September 26. You can find an electronic copy of it on the BYU Library website after we get all the paperwork done (if I pass the defense, that is). (:
Second--I teach a comedy writing class now. Love my class. Love my job. Love my life.
Third--Some thoughts have been going through my head as of late and I thought I should share them here before I forget.
It's been an interesting couple of months. I've helped create a television show called
Studio C
that will air on BYUtv October 6 at 4pm. It will then air regularly Monday and Friday evenings. I'm picking up the last year of my masters program, and I'm teaching what I love: comedy. Yet, for some reason, this time in my life has felt a little flat. I don't mean flat in the sense that not much is happening. As you can see, plenty has happened in my life, but even in times of circumstantial flatness, I think, as
Neal A. Maxwell
says, "Patience helps us to use, rather than to protest, these seeming flat periods of life, becoming filled with quiet wonder over the past and with anticipation for that which may lie ahead, instead of demeaning the particular flatness through which we may be passing at the time."
No, I've had those moments, and I'm grateful for them. I'm grateful for the time I've had to reflect on how to better myself and then find the resolve to do it. Now, however, I've found myself concerned with the "
thick of thin things
." One trap in particular I fall into is the trap of riding the tide of contentment. I feel like life has been good to me lately, but that doesn't help me progress. Instead, I end up dabbling through the humdrum and ending each day sufficiently, but not satisfied.
I realized this error when I'd discovered something I've greatly desired would not be given to me. This is not, like my usual desires, a temporal or selfish desire. This is something powerfully eternal and inspiring. I've prayed for it every night since the beginning of the year and have searched and studied diligently for it. But I don't have it just yet. It was after being temporarily denied this great desire of my heart that I realized I've neglected to
live
the desires of my heart. I've slackened and stayed in the rut of casual living.
Again, I fell back on Neal A. Maxwell. His talk,
"According to the Desire of [Our] Hearts"
helped me recognize that "what we insistently desire, over time, is what we will eventually become and what we will receive in eternity." Sure, I've wanted this specific blessing in my life for a long time, but I don't have to halt my progression while I'm waiting. If I wait upon the Lord, I know it is not a passive state of mind in which I do nothing until something happens. The whole reason I had this desire to begin with was so that I could have a greater relationship with God and feel His presence more strongly in my life. Why can't I continue that journey right now where I am?
So, I share with you part one of my epiphanies this week: I needed a stronger desire in the right direction to become who I truly am meant to be. If I am to be building up God's kingdom here on earth, I'd better well prepare myself because the winds of life can only take me so far without some paddling on my part. I know what is true. I know what this gospel is about, but I need to connect to these principles with the passions of my soul in order to motivate myself to mold my natural self more like God's perfect Being. As Brigham Young said, "It is evident that many who understand the truth do not govern themselves by it; consequently, no matter how true and beautiful truth is, you have to take the passions of the people and mould them to the law of God" (in
Journal of Discourses
, 7:55).
Part two of my epiphanies is that I must ACT on my desires. So much frustration has been circling around in my own head, and yet, I don't do anything
outside
my head to change my circumstances. HELLO? I feel like life is telling me, "What's your dilemma, Whitney? Oh, well have you prayed about it? Have you studied it? Have you sincerely put forth effort to change your daily circumstances in all of your interactions with others? Hmm, well I don't really know where to go with that...."
Of course, I know the solutions to my frustrations. Thomas S. Monson gave a wonderful talk called
"Life's Greatest Decisions."
In it, he described a group of Tahitian fishermen. "Brother Baudin, who then spoke French, of course, but little English, was trying to describe to me the secret of the success of the Tahitian sea captains. He said: 'They are amazing. The weather may be terrible, the vessels may be leaky, there may be no navigational aids except their inner feelings and the stars in the heavens, but they pray and they go.' He repeated it three times: 'They pray and they go. They pray and they go. They pray and they go.' There is a lesson in that statement."
This is not a time for hibernation. Rather, this is a time to press forward. I know there are questions in my life right now and situations in which I'm very uncertain. But by golly, they still happen. And I may as well continue forward. I have the power to gain Christ-like attributes and invite others to do the same while on my journey here and that's really all I can do. That's all I can control--but that's a lot of control. That is the power of God instilled in me to change. That is the the respect God affords me through His Son's atonement. It is the reason we are here.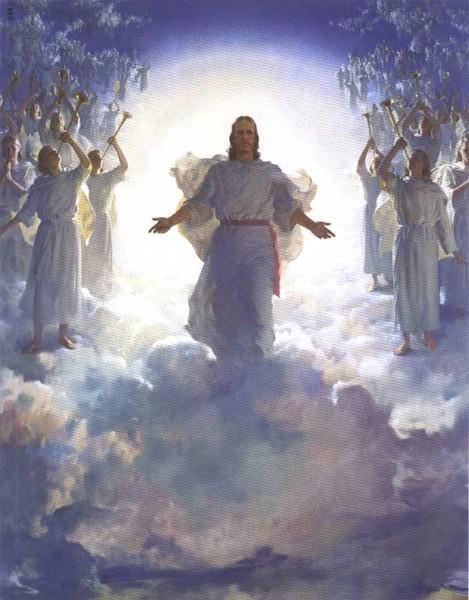 Now, this is the third epiphany that I've come to re-realize: Christ's Atonement does not merely allow us to get back to heaven, but also demonstrates that God wants us to feel strengthened and wants us to see the change we can make in ourselves. He has given us the Atonement so that we can see how far we've come in this life. He's given us the Atonement so that we can build a relationship with Christ that will build us up to where He is. As
Brad Wilcox
said, when we rely on the merits and grace of Christ, "We do not discover—as some Christians believe—that Christ requires nothing of us. Rather, we discover the reason He requires so much."
We have been blessed with so many gifts. We have the power to bring people to Christ. We have divine attributes that only strengthen when we rely on our Savior, Jesus Christ. I know, I
know
that we are strongest and happiest when we act as witnesses of God. I know that when we rely on God, life's problems do not seem so insurmountable. His way really is the easiest way. Feel the love and respect our God has for you because He knows the potential of what you can become. His love and strength is at our reach if we will but look, and if we utilize our God-given strengths, we will change others' lives. Most importantly, we will change our own.
Hope all is well and that you're seeing the strength of God in your daily actions.
-Whit